For the past five years, I have run a beefy server to enable real-time conversations within our projects. It was used most heavily by the first Prototype Fund batch, for the COVID-19 monitoring hackathon, and by the interest group around the Dribdat platform. There were also teams related to the OpenGLAM and OpenGeneva communities. We are now shutting this service down.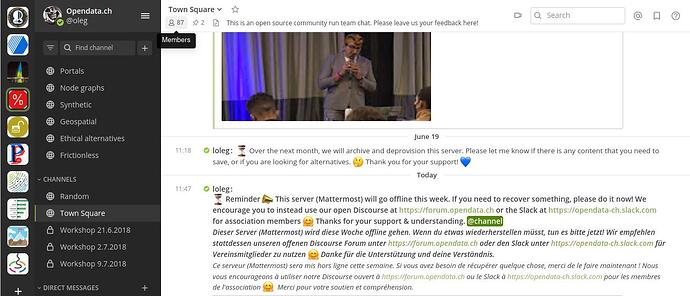 We are thankful to Mattermost for the non-profit discount which made it possible to keep the service running for so long. However, the maintenance overhead has still proven to be too high. We had an irrecoverable crash that wiped out several weeks of conversations this year, and for me the difficulty of exporting and archiving our data presents a significant downside to the platform (see my GitHub issue and alpha Content Mover project).
Here are some stats from our Mattermost server:

For now we will focus on maintaining this Discourse forum (~1500 posts and 95 users at the moment), Slack (81 channels, 478 users) and social media (Mastodon, Twitter, LinkedIn, …).
There are a number of compelling alternatives (e.g. Matrix, RocketChat, Zulip …), and we'd love to hear your thoughts about what would help you to better connect with the Opendata.ch team and community.