Countless events including our Hackdays tomorrow are being cancelled as even more strict public health measures are being put in place in Switzerland, which is close to being in the top 10 of countries currently most affected by the novel coronavirus (COVID-19).
Earlier today we debated a question over Twitter about the lack of data and interactive visualizations on the topic from the authorities, the question being - who wants to help fix the situation? Poster @marcbrub suggested taking a look at what's being done in Singapore, and while this level of detail is impressive, a lot of caution needs to be exercised these days - once we get past the fearmongering, mask hoarding, paranoia and fake news - to make sure that we don't encourage overstepping the line in a way that we will regret later, as @ensoesie aptly tweets:
Having said all this, as we bunker in to weather out the viral storm, surely we're all wondering: how long will this last? @dani_graf asked to see some epidemic curves to which there have been a couple of quick replies with data sources and tips. Here are a couple more: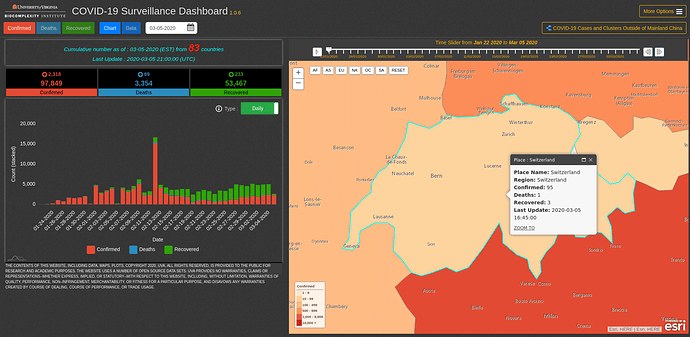 The interactive dashboard pictured above from the University of Virginia at http://ncov.bii.virginia.edu/dashboard/ (see user guide for a backgrounder on the data) has very usable interactive charts. There is also this visualization by Aleksandar Jovicic that, despite it's dark mode flavour, lets you zoom in and check out the curves by region: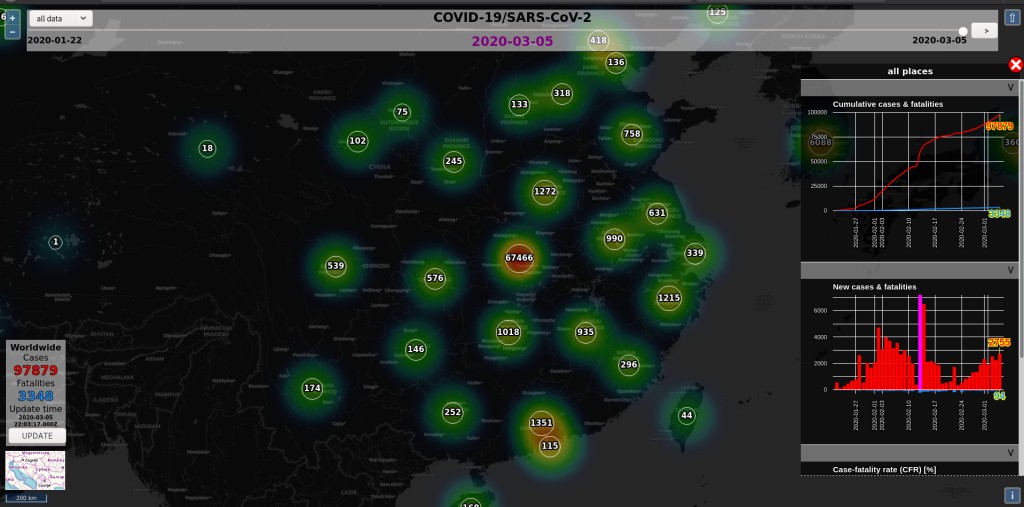 It would be nice to select several areas and compare their patterns. Meanwhile, the John Hopkins project is a reference for getting the data and visualization effort quickly organized.
So, Switzerland, let's not waste time, do some armchair epidemology and crunch those numbers! Find a good intro to
epi curves. Get some open data from past plagues, european (thanks @sylvain_gardel) or international data to practice on, and please post any tips or projects or new data sources as they become available.